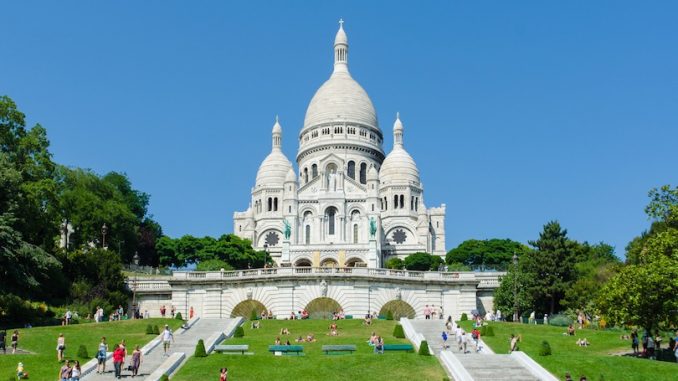 Paris attractions: The Palais Garner is a 2,000-seat auditorium and the very pinnacle of Parisian opulence – from the classical sculptures on its exterior to the mirrors, marble and parquet flooring of the Grand Foyer. There's also the Grand Escalier, all red satin and velvet boxes, plus the library, museums and emperor's private salons. (As you might expect, he didn't fancy taking the front entrance with the rest of the hoi polloi, preferring instead an exclusive entrance at the rear of the building that his carriage could roll up to.)
Paris restaurant pick : It's been a while since an outstanding restaurant opened in the historic Latin Quarter, which is why Cambodian-born Tomy Gousset's new place has been such a hit. Here, the chef — who spent time in the New York restaurant scene — preps a first-rate small-plates menu that will please both vegetarians and carnivores. Standout dishes include the savory pancake with guanciale; a breaded free-range pork cutlet with a fried egg, black rice, red cabbage, and curry sauce; and a black chocolate tart with puffed buckwheat and cappuccino ice cream. It's an instant local favorite.
Sainte-Chapelle is rarely used for mass but often serves as a venue for music concerts. Listening to a choir or classical music performance in this space is an inspiring spiritual experience. Sainte-Chapelle is considered a rare jewel among medieval houses of worship and is certainly one of the most exquisite churches in Paris. This masterpiece of Rayonnant Gothic architecture was built from 1242 to 1248 for King Louis IX (Saint Louis) to house the precious relics he had acquired from the Byzantine Emperor. The altar displays a relic of the Crown of Thorns. The chapel is renowned for its breathtaking stained-glass windows, which give the sanctuary an iridescent glow and serene aura. (It's recommended to visit in the morning and especially on sunny days to appreciate the windows at their most brilliant.) The chapel has 15 stained-glass windows (covering 600 square meters) depicting over 1,000 scenes from the bible, both Old Testament and New Testament stories. The colors and light symbolize divinity and the Heavenly Jerusalem. See even more info on Paris travel blog.
Paris shopping pick : Grand Magasins on Boulevard Haussmann, Rue Tronchet & La Madeleine Start exploring this shopping area in Paris by strolling around the Place de la Madeleine. The streets surrounding the church—with its stately neoclassical temple design—are lined with trees and elegant shops, cafes and gourmet food shops such as Fauchon. Follow Rue Tronchet from La Madeleine and you'll head directly toward the huge department stores Printemps and Galeries Lafayette on Boulevard Haussmann (See Department Stores section below for more details). Along the way you'll pass lots of neat shops. Keep your eyes out for a super handbag and luggage store called La Maroquinerie Parisienne on the right as you approach Boulevard Haussmann. The streets here are lined with shops all along Boulevard Haussmann leading toward the beautiful Opera Garnier. Stop in the huge Monoprix store near Galeries Lafayette for a uniquely Parisian shopping experience. This area is a shopping haven all day long and also after dark when the Opera creates a dramatically beautiful backdrop.
This splendid collection of Impressionist art is beautifully presented in an expansive space (formerly the Belle Epoque-era Gare d'Orsay railway station). The collection represents the work of all the masters of Impressionism. The artists range from classic Impressionist masters Edgar Degas, Edouard Manet, Claude Monet, and Pierre-August Renoir to Post-Impressionist artists such as Pierre Bonnard, Paul Cezanne, and Vincent van Gogh; the Pointillists (Georges Seurat, Paul Signac); and Bohemian artists like Toulouse Lautrec. Some of the museum's most famous pieces include Claude Monet's The Magpie, Gare Saint-Lazare, Poppy Field, and Luncheon on the Grass; Vincent van Gogh's self-portrait and Starry Night; and Renoir's Dance at Moulin de la Galette, which depicts a festive party scene in Montmartre. Discover a few more info on FranceTravelBlog.com.