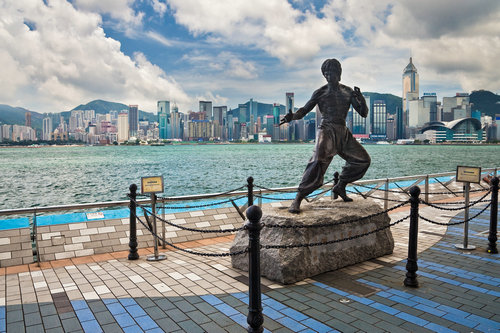 Top places to see in Hong Kong? Hong Kong is a fabulous travel destination. This historic clock tower, which was constructed in 1915 as part of the now sadly demoilished Kowloon-Canton Railway terminus, is one of the most well-known buildings in Tsim Sha Tsui. This 44-metre high redbrick and granite tower is a declared monument, and is a relic from the days of British rule. Also, with Victoria Harbour in the background, it's a pretty damn good photo opportunity too.
Not everyone thinks of beaches when they think of Hong Kong, but you don't have to go far to find some incredible soft-sand beach. The beach at Repulse Bay is the most popular in all of Hong Kong, with beautiful views and a great place for swimming, although it's very non touristy. A day spent here is complemented with the luxury and style typical of Hong Kong itself. The street running along the oceanfront and overlooking the wide beach is lined with trendy restaurants and shops. Amalfitana is fun place to enjoy a pizza, with casual open-air dining looking over the beach. Another nearby spot for a day at the beach is Big Wave Bay. Here, the water rolls in relatively gently to a large U-shaped cove with a splendid beach. This is a much more relaxed and casual atmosphere than at Repulse Bay. A popular outing is to walk part of the famous Dragon's Back hike to Big Wave Bay and dip in the ocean for a swim. At the back of the beach, barbecues are often serving up seafood and other tasty treats. Buses and taxis are available to take you back to the city. Also worth checking out is scenic Shek O Beach. It's easily accessible via public transit. For more details see our article on the best beaches in Hong Kong.
Perching on The Peak at 396 metres above sea level, The Peak Tower is one of the most stylish architectural Hong Kong attractions. Inside The Peak Tower, there is a dazzling array of restaurants, shops and entertainment venues set against the beautiful backdrop of the city. Moreover, The Peak Tower boasts the highest 360° viewing platform – The Sky Terrace which offers spectacular panoramic views of the vibrant city. Victoria Harbour is a natural landform harbour situated between Hong Kong Island and Kowloon in Hong Kong offering a stunning view of the city skyscrapers. While the Symphony of Lights is the "World's Largest Permanent Light and Sound Show" by Guinness World Records, has been further expanded to include more than 40 buildings on both sides of Victoria Harbour. The stunning, unforgettable spectacle synchronised to music and narration that celebrates the energy, spirit and diversity of Hong Kong. Performance starts 8 pm daily.
How to get in or out of Hong Kong? We recommend flying, here is a reason : Safety! Plane crashes are spectacular, tragic events that can result in hundreds of deaths. Fortunately, they are extremely rare. According to Chance News, the odds of dying on a 1,000-mile flight is significantly less than that from dying on a 100-mile car ride. Rail, bus and train travel are also more dangerous than flying on a plane, if you plan a flight from Hong Kong.
Located on the 100th floor of the International Commerce Centre, the views from Sky100 are simply divine; you can see all of Hong Kong and Victoria Harbor laid out below you. The 360-degree observation deck has a cafe where you can grab a bite to eat or drink while taking in the views, as well as a virtual reality attraction and photo booth. The panoramas on offer are just as stunning at night, when the city's myriad of lights twinkle below you, glittering off the water around them. This lovely, laidback seaside town is the perfect place to head from Hong Kong if you want to escape the city for a bit. Its serene settings will replenish you after all the sightseeing. Located on the Sai Kung Peninsula, the town of the same name has lots of restaurants and bars for visitors to choose from; many opt to take a boat trip aboard an old junk. With lots of activities on offer such as sailing, scuba diving and sunbathing – as well as partying in the evening – Sai Kung is an excellent choice for a day trip.