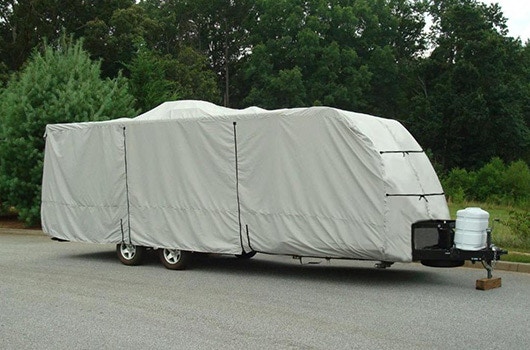 RV covers are very important for your road van, car or truck good overall condition. Parking your RV exposed to the snow during the time it stays parked can result in roof damage and leaks. So what's the best way to protect your RV?
The ubiquitous tarp, usually blue, is used to cover many things, it seems to be an obvious choice for covering an RV. You can find them everywhere, they're inexpensive… but they're a bad idea for motor home and travel trailer owners. First of all, tarps don't "breathe". Any moisture that gets under it, or is already on or in your RV can become trapped. The result can often be mildew, mold, and even moss. Secondly, although they can feel slippery – especially when wet – tarps have an abrasive surface. When a tarp is up against your RV, and then moved by the wind, it can have a sandpaper effect. Even the smallest movement over the course of months' of coverage can cause damage. As well, tarps aren't fitted. When you try and cover an RV with a tarp (or tarps, more likely) you'll have to deal with a lot of excess material and corners that just won't want to be reached. All the extra material makes the cover susceptible to the flapping mentioned above.
Make sure your RV has cooled down. Hot spots including engine exhaust, and fridge or water heater exhausts can severely damage an RV cover. Look for sharp and "pokey" areas on your RV. Things like your side view mirrors, rain gutters, riveted edges, awnings, and more can cut, puncture, or put excessive pressure on your RV cover. Make sure these areas are padded before installing the cover. An excellent way to do so is with pool noodles and lengths of foam pipe insulation. You'll find an incredibly detailed tutorial on RV covers and pool noodles at this link.
Should You Cover an RV at All? Yes, you should! Covering an RV, if you don't invest in proper RV storage, is essential to keeping it protected from the elements. RV covers, RV skirts, and other methods can be used besides the traditional tarp route. Here's why you need to protect your RV when not in use. UV Damage Protection: Covering your RV will help keep it from aging from the sun's rays. The sun's UV radiation can harm your ride by fading color, peeling paint, cracking components and more. Make sure your covering of choice will block out UV radiation, just because something blocks light does not mean that it blocks ultraviolet radiation. If your roof begins to buckle or crack, this not only looks bad, but it can cause issues with vents, AC units, and more on the top of your RV.
You will need to be very careful when installing a cover on your RV. It is also not very easy to remove, especially if it's wet. Very strong winds can rip your cover off, if it's not secured properly. Find someone to help you. If you're on the roof, it helps to have someone on the ground. Take the cover out of its box, then spread it flat on the ground. Un-clip all hooks, open all zippers, and get a good look at it. Figure out what goes where and how. It can be dangerous to climb up on the roof, so be confident of your footing, and your RV's ability to handle your weight.
In addition to making your online shopping experience a pleasant one, we strongly believe that we provide the best car covers on the market. We use the latest in technology and design, paying special attention to detail to make our car covers. However, what differentiates us from our competitors is that we're not only here to take your order, we're here to develop a long lasting relationship. We have more than enough staff to assist you, and we process orders directly from our warehouse, so that your item arrives right on time. No matter which of our locations you're dealing with, whether US or Canada, it's all about keeping you happy. At the very least, we offer a Perfect Fit Guarantee, Price Protection Guarantee, Money Back Guarantee, and Zero Hassle Returns. Whether you're a car enthusiast, a car collector, or simply a person that owns a car, at CarCover.com, we know what it takes for you and your car to feel 100% covered. See more info at class A rv covers.