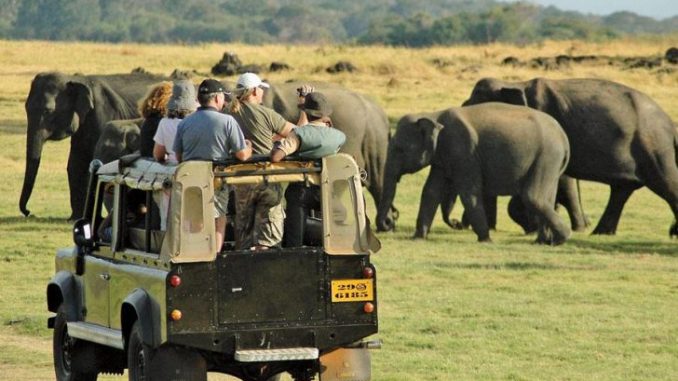 There is a huge chunk of savannic grassland centred on the udawalawe reservoir is the closest Sri Lanka get to East Africa, you go so far to say there for elephants. Udawalawe is equal to many of the famous East African parks. Here in Anuradhapura relics of Sri Lanka's cultural and religious Heritage sprawl across three square kilometres, in the centre is one of the world's oldest tree, 2000 years old Sri Maha bodiya.
Sri Lanka is among the best destinations in the world. Here are, best awesome things to do in Sri Lanka. Add things you like to do, to your, "BUCKET LIST" there is something for everyone, Sri Lanka is waiting to offer you a myriad range of adventure, fun, and real authentic experience.
Things to do in Sri Lanka:
The Kandy to Ella train journey is said to be one of the most scenic, epic train journeys in not only just Sri Lanka but the world. So with a few days to spare in Sri Lanka, I decided to purchase a ticket for $1.50 and climb aboard for the 5-hour journey. Yes, the train really does cost just $1.50.
I have now taken the train in both directions. From Kandy to Ella and in reverse from Ella to Kandy. On both occasions, I just arrived at the train station and bought the cheapest ticket and walked on. I didn't sit in a seat, I preferred to an open door and hang my legs over the edge for the entire journey.
The south coast of Sri Lanka is a surfers paradise. Around each corner is a new break being enjoyed by only a handful. A searing sun, the warmest water and endless waves makes the south the perfect surfari destination. What makes it a surfari? No matter where you travel along the coast you are never far from the jungle, monkeys, peacocks and jungle bliss. There really aren't too many places in the world that combine both the jungle and surf in such close proximity.
Hikkaduwa surf beach was one of my favorite spots to head out into the water. The town is pretty well developed having been on the tourist map for a number of decades. However, a chill vibe remains with bars and huts lining the beach, watching out over the surfers taking wave after wave. A reef sits below the break but the water is deep enough to make sure a bad landing is highly unlikely.
You'll see elephants everywhere you go in Sri Lanka: working on a tea plantation, running wild in national parks, and leading the Esala Peraha parade in Kandy in all their bejewelled and sequined glory.
Uda Walawe National Park offers you your best chance of seeing elephants roaming free. Created to protect the watershed of the enormous Uda Walawe Reservoir, this park is home to around 400 pachyderms and has extensive stretches of grassland as well as scrub jungle and riverine forest. It is one of the best places to go birdwatching in Sri Lanka too.
Contact:
Authentic Sri Lanka Travels
Website: Book holiday to Sri Lanka
Address: 17/9 koswatta RD,
Nawala Rajagiriya,
Colombo
Sri Lanka
Phone: +94 77 085 5617
Email: info@lankan.holiday