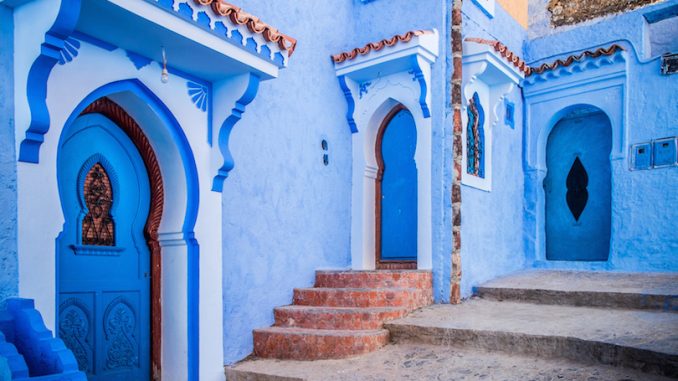 You must see Morocco at least once and the incredible spellbinding diversity. Bab el-Mansour, Meknes: One of the most beautiful monumental gates in the entire nation, Meknes's Bab el-Mansour is adorned with striking tilework and decorative calligraphy. Built in the 1730s, it was the main gateway between the city's old medina and the former royal capital. Colourful, active, atmospheric, and more than a little pungent, the tanneries of Fes let visitors see part of the ancient leatherwork processes. Watch as hard-working men treat and dye leather in large pits, using methods that have remained largely the same for several hundred years. There are several viewing areas, accessed through leather shops, from where you can watch the work in the Chaouwara Tanneries.
Situated on Morocco's North Atlantic coast, seaside Asilah is popular amongst the tourists and citizens as a hot summer spot. Apart from the sandy beaches, the city walls covered in colorful murals also make this city one of the top Morocco places to visit! This is one of the awesome reasons why a honeymoon trip to Morocco should be on your bucket list! If you are here during August, don't forget to attend the town's vibrant annual Arts Festival which makes it every youngster's favorite city in Morocco during this time! How To Reach: Asilah is located on the rail line linking Tangier to Rabat, Casablanca, Marrakech, Meknes, and Fez. Board train from any of the mentioned places to reach here.
The most European of all Morocco's cities, Tangier has a fascinating and slightly debauched role in 20th-century literary history, and this past is what draws many tourists here. This is the city that inspired famous works such as Paul Bowles' The Sheltering Sky and William Burroughs' Naked Lunch. Tangier may have been scrubbed up since their day, with the bohemian cafes and louche bars long gone, but you can still catch a whiff of the decadent days gone by. Read even more details on Tour operators in Morocco.
Ait Benhaddou is one of Ouarzazate's fortified cities along the former caravan route between the Sahara and Marrakech. Inside the high mud walls are 6 kasbahs and a small number of homes. Most of the town's inhabitants now live in a more modern village at the other side of the river although a few families still live within the city walls. Aït Benhaddou has appeared in several movies, including Lawrence of Arabia and Gladiator.
Our professional and friendly private Morocco tour guides love taking care of every traveler like their own family. Our drivers are also well-trained, insured and licensed to offer the safest, most comfortable ride during your Morocco tour. Are you looking for a reliable and trust-worthy travel agency to partner up with? Exploring Morocco Travel can help you discover what this heaven-like country is all about. See additional info at this website.