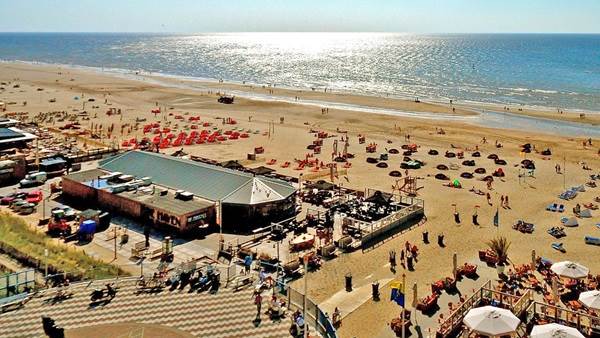 5 top attractions in Zandvoort: The town of Zandvoort dates all the way back to 1100. It was then known as Sandevoerde ("Sand" and "Voerde," which means ford). The town was controlled by the Lords of Brederode until 1722. Throughout much of Zandvoort's history, fishing was a prominent part of the local economy. In the 19th century, the village began transforming into a seaside resort similar to the ones found in the UK at the time. The first resort was officially inaugurated in 1828. After the inauguration, tourists began flocking to Zandvoort. Elisabeth of Bavaria was a famous visitor who spent time in Zandvoort in 1884 and 1885.
The sandy 9km-long beach at Zandvoort aan Zee runs parallel to the village and is on average 100m-wide. Over 30 beach pavilions ensure that you're never far away from food and drinks in the summer, but some of the best venues are open throughout the year, so take a stroll along the North Sea on a beautiful winter day and take in the wonderful natural scenery followed by a hot cocktail and a meal on the beach. Discover extra details at www.zandvoortaanzee.online.
Zandvoort is known for its beautiful beach and for Circuit Park Zandvoort. But Zandvoort aan Zee offers more than just sun, beach and sea. Zandvoort used to be a small village that lived from the fishing and some agriculture. Zandvoort's centre is still worth a visit. You can still wander through the little picturesque bended streets. It is possible to go shopping and to go out in one of the 55 restaurants for example. Watching sunset from one of the beach pavilions along the coast is, of course, something extremely worth doing. The many beach pavilions, nice shops in the centre, cosy restaurants, a vibrant nightlife, Circuit Park Zantvoort and National Park Zuid-Kennemerland are just some examples of the wide range of possibilities Zandvoort has to offer you.
For our dutch visitors:
Het Circuit van Zandvoort is gelegen ten Noorden van het dorp, direct aan de uitgestrekte boulevard. Nieuw op het circuit zijn de kombocht en tal van uitbreidingen ivm de komst van De Formule 1 Grand Prix. De GP heeft eerder op het circuit van Zandvoort plaatsgevonden en dat was in het jaar 1952 en 1985, dit weliswaar met enige tussenpozen. Wanneer jij je voor een dag coureur wil voelen, kun jij als stoere man of vrouw in een van de snelle Ferrari"s stappen of wat dacht je van een Aston Martin Vantage en maak onvergetelijke rondes op het circuit van Zandvoort.
Het NH Hotel in Zandvoort is een van de meest populaire accommodaties in de regio, mede dankzij de perfecte ligging, ruime kamers en uitstekende service. Alle kamers van het NH Zandvoort Hotel zijn uitgerust met een minibar en koffie- en theefaciliteiten. Ze hebben ook een zithoek en een badkamer met zowel een bad als een douche. Het hotel bevindt zich op amper 15 minuten lopen van het treinstation van Zandvoort aan Zee. Met de auto bent u in 10 minuten bij de Kennemer Golf en Country Club. Lees meer details op deze website Zandvoort aan Zee hotel.
Het Beachhotel Zandvoort ligt op 2 minuten lopen van het strand. Het ligt in het centrum van Zandvoort, en het biedt kamers met uitzicht op de zee en het strand, en gratis toegang tot het waterpark Aqua Romana. In het resort vindt u een supermarkt, een bakkerij en allerlei recreatiefaciliteiten. WiFi is tegen een toeslag beschikbaar. De kamers in het Center Parcs Beachhotel Zandvoort zijn elk voorzien van boxspringbedden, een bureau en een zithoek met een tv. Ze hebben tevens een aparte kitchenette met een koelkast, een magnetron en koffie- en theefaciliteiten. Het beddengoed en de handdoeken zijn bij de prijs inbegrepen.