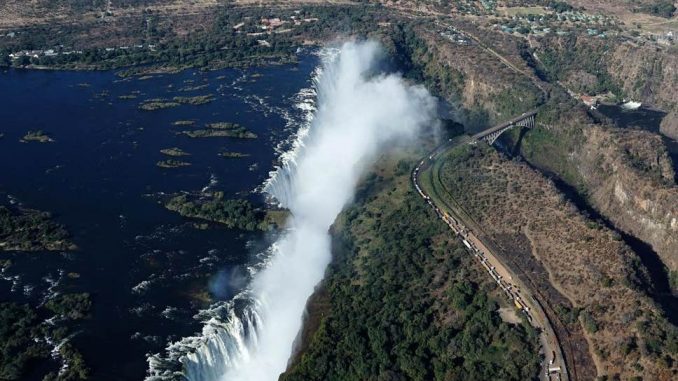 Looking for cool new travel places ? Victoria Falls may be the place you are thinking about. Still after some free fall action? Why not try the 111m Bungee Jump from the center of the Victoria Falls bridge? Consistently voted one of the Top 5 Bungee's in the world – you get a whole 4 seconds to take in one of the 7 natural wonders of the world as you hurtle towards the flowing river below! It's definitely one of the most adrenaline pumping things to do in Victoria Falls!
This is probably one of the most popular things to do in Victoria Falls, not least because rafting here is renowned to be some of the best in the world! 2 of the people I was travelling with went for the rafting adventure here and they had an absolute ball – although they didn't enjoy the climb back up the canyon afterwards! Nevertheless battered and bruised (if you ask me they deserve it after requesting multiple flips!) they came back smiling saying they really enjoyed this full day adventure. See additional details on Book Victoria Falls Tours.
A whole set of adventure-laden activities – ranging from bungee-jumping and whitewater rafting to abseiling and "gorge swinging" — have blossomed around the falls, the gorges below and the Zambezi River. A wide variety of accommodations, restaurants and shops have also sprung up on both sides of the falls and river, but the ultimate attraction remains the cascades themselves.
Abseiling at Vic Falls: One of the softer adventures at Vic Falls, also known as rappelling. Abseil 53m down Batoka Gorge! And take in the spectacular views of the Eastern Cataract of Vic Falls, with the Victoria Falls bridge in the distance and boiling pot rapids below. Low-key Adventure: Zambezi River Sunset Boat Cruises above Vic Falls: One of the best things to do at Vic Falls is a Zambezi River Sunset Cruise. If you've seen photos of the sunset boat cruise then you'll know why this activity is a real gem. The setting is magnificent and the sunsets are spectacular. The Zambezi boat cruise is a great way to unwind and relax, after skyrocketing your adrenaline levels on the more extreme activities. After an action-packed day, you get to sit back and sip on sundowners. Keep an eye out for wildlife along the banks and in the shallows of the Zambezi. A good variety of birds are commonly spotted, along with hippos, elephants, antelopes and giraffes. The sunset cruises are run by a variety of lodges and operators throughout the year. See more info on visitfalls.com.