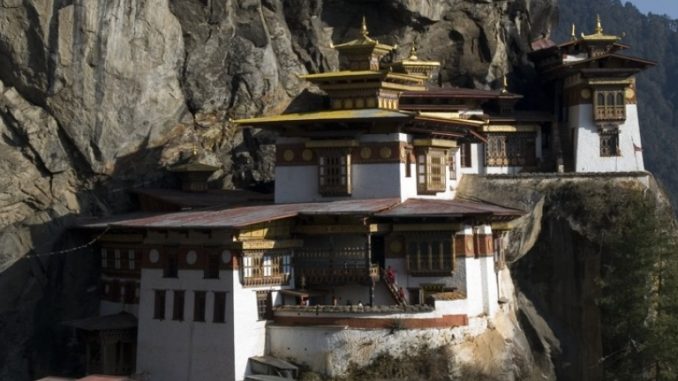 Bhutan is an incredible place to visit, a magical ancient kingdom with beautiful scenery and a fantastic history. Dochula Pass: This pass is popular with holidaymakers as it offers 360-degree panoramic views of the Himalayas. 108 chortens line the mountain road, which takes travellers between Thimpu and Punakha. At the top of the pass, there are not only spectacular views, there is also spiritual solace to be found for tourists and locals alike in the Druk Wangyal Lhakhang Temple.
Trekking is an ultimate adventure activity and the Mountain of Jomolhari will give the best travel experience for endurance travellers. This is the most popular trekking route in Bhutan and as you trek along the emerald forest you will be surrounded by a wide range of beautiful landscapes, fauna and flora. The highlights of this scenic Jomolhari trek are its virgin forest and soaring peaks, you will be passing high pastures where yaks graze and ancient dzongs stand and house red dressed monks that chant prayers. In fact, you can get a spectacular view of Mount Jomolhari from the base camp of the same name as well. Surrounded by splendid desolation, Jomolhari trek offers a unique experience traversing the spellbinding beauty of blue poppies and whispering winds, this trek has something or the other for all kind of trekkers.
Resting deep in the cradle of the Himalayas is a magical kingdom with beautiful scenery and fantastic history. It's not a fairytale, but a wonderful visual delight is waiting for you to come and visit. The peaks of the mountains are high and steep, but you don't have to climb over them. You can fly through the air on the wings of a Drukair flight to reach this beautiful Shangri-La. See more info at Druk Air Singapore.
Tiger's Nest or Taktsang Monastery is one of the must visit places in Bhutan. It is known for the beautiful and the sacred monastery of Guru Rinpoche. It is considered as a place of pilgrimage and is an easy half trek, which gives you the panoramic views of the Paro valleys. According to the legends, Guru Rinpoche also considered as the second Buddha rode to this place on a tigress's back to suppress a local demon and thus he meditated here for 3 months. This place is Bhutan's most religious site and it hangs on the cliff as it stands above the lush forest of thousands of species of rhododendrons and blue pine. Due to this, it is counted in the list of places to visit in Bhutan. Tourists can come to this monastery by standard permits which your guide will arrange for you. Also, you have to register your at the entrance deposit your cameras and bags because photography is prohibited inside of the temple. If you are backpacking in Bhutan, then you must consider visiting this place.