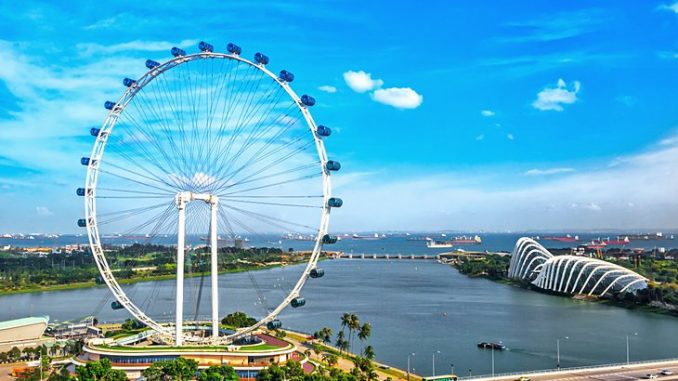 If you visit to Singapore you may want to try this incredible new attraction in Singapore. This is a perfect opportunity for honeymooners travelers but also for all tourists to get a personalized perfume based on their personality. Not very often we present something truly innovative in the travel industry. The Scent-OSA shop offers perfume creation with a hi-tech video projection right in front of you, combining only the best of both modern and ancient Singapore. They will assist you in creating your very own personalized perfume, based on your personality. Scent-OSA also serves as a unique souvenir for tourists and visitors who travel to Singapore. With its lush greenery, Sentosa Nature Discovery is the most ideal location for such an incredible event, creating an amazing ambience for attendees. Featuring native orchids of Singapore, the show also is the latest tourist activity Singapore, showing participants unexplored side of the Green City. Once you've watched the video, you will be invited to take a perfume personality test, specifically designed to help you curate your perfect scent. Once you've taken the test, your results will be distributed along with five scent categories: fresh, woody, citrus, floral, and oriental.
The "center of commerce during the 19th century," Clarke Quay lives up to its legacy as a busy hub. Today, it has a more polished sheen, so after a long day of shopping on Orchard Road, visitors can happily head to Clarke Quay for an evening of waterfront dining and entertainment. River taxis and cruises also depart from here, giving tourists the chance to admire some of the city's historic bridges and view landmarks like the Merlion from the water. The Quay's biggest hit with younger tourists is a giant bungy-jumping attraction, an adrenaline-packed thrill ride. Nearby attractions include the Asian Civilisation Museum; the Civil Defence Heritage Gallery located in Singapore's oldest fire station; and the Hong San See Temple, a picturesque century-old Buddhist place of worship.
Singapore's famed Marina Bay is the place to go to see the city's most spectacular things to do. With the fast development of this cosmopolitan city-state, the whole Marina Bay area has undergone a transformation of epic proportions. The S$5.5 billion Marina Bay Sands complex is the focal point of the bay, and many of the great things to do and see in the area revolve around this epic building and resort, such as the Science Museum, Casino and various shopping, dining and nightlife options. Arrive at Marina Bay around 8pm to catch the spectacular light show, which illuminates the water as well as several iconic landmarks you've probably seen on postcards.
Your personalized fragrance is created in front of your eyes, based on a personality test. So Scent-osa perfume is a truly personalized fragrance created with essences native to Singapore and Asia.Our quiz helps you understand your own perufme personality- Citrus, Floral, Fresh, Oriental and Woody. Our ingredients also correspond to these 5 categories. Fresh- The Urban Bohemian – Are you easy & relaxed? Like light, airy things and a good run? Ever wished you could capture the smell of fresh-cut grass in a bottle? You would be fresh. You are easy going and a great team player. You are an asset to any organization. Most of the cloths are designed for comfort, yet they happen to have elegant and free-spirited, youthful look. You like to stay outside and like a perfume that reflects your carefree style. Allow our Perfume Workshop attendants to assist you in making something like that.
Arrive at Sentosa in style when you at the Singapore Cable Car from Faber Peak Singapore down to Sentosa Station. This unique mode of transportation can also be transformed into a private dining space where you're served a four-course meal with dishes like wagyu beef cheek and smoked duck breast during the 90-minute ride. While the grown-ups will appreciate the history of this modest-sized mound in the heart of the business district, the kids… well, they don't need any excuse to tumble around in a park as verdant as this, do they? As they explore the many nooks and crannies of Fort Canning Park and its many colonial-era relics, history buffs can learn more about the vital roles it played in Singapore's story over the centuries.
Take a perfume personality test and match the oils to your results. Watch and participate in the immersive show that starts with a personality test. Our e-perfumer will expain the results and also help you mix the Citrus, Floral, Fresh, Woody and Oriental Ingredients. Where can you find the Scent-OSA fragrance workshop ? Scent-OSA is at the heart of Singapore's go-to tourist spot, Sentosa island. It is surrounded by the natural abundance of Sentosa Nature Discovery and is right behind the butterfly garden. Read more info at Singapore new attraction.
The perfect personalized souvenir from your Singapore trip is a personalized perfume from Scent-osa. Cymbidium Bicolor Pubescens, Used in Fresh 1 (Women) for Team building Perfume workshop. Nparks website states them as "Laterally compressed with thick long leaves, up to 45cm long and 1.5cm wide. Each pendulous inflorescence not more than 25cm long, carries several fragrant flowers, each approx 2.5 to 3cm in diameter." Cymbidium often have amazing smell, but this one is special. It's will remind you of a lotus in water or beautiful air on the beach. Its a popular medicinal orchid. Sri Lankans call it Visa Dhooli. In china is is used to treat fractures.