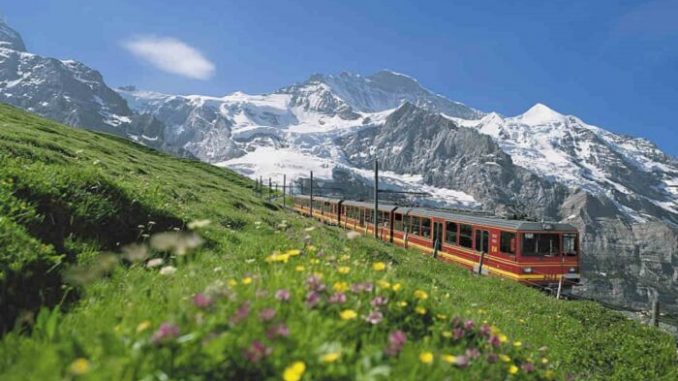 Switzerland is an unbelievable beautiful country but also one of the most expensive. Not having your legal papers in order can cost you a lot here. So we will discuss the amazing places and also the practical advices regarding insurance and other legal stuff. Imagine a sparkling blue lake surrounded by mountains, a car-free medieval old town, covered bridges, waterfront promenades, frescoed historic buildings, and sun-splashed plazas with bubbling fountains. No wonder Lucerne (in German Luzern) is a top spot for tourists. Famed for its music concerts, this quintessential Swiss town lures renowned soloists, conductors, and orchestras to its annual International Music Festival.
The Culture and Convention Center is home to one of the world's leading concert halls. One of the city's most famous landmarks is the Chapel Bridge, built in the 14th century. In a small park, lies the famous Lion Monument, a poignant sculpture of a dying lion, which honors the heroic death of Swiss Guards during the attack on the Tuileries in the French Revolution. History buffs will enjoy the Swiss Transport Museum with extensive exhibits on all forms of transport, including air and space travel, railroad locomotives, and a Planetarium. For beautiful views of Lucerne, the Alps, and the lake, ride the funicular to the Dietschiberg on the north side of Lake Lucerne, cruise up Mt. Pilatus on the cableway, or head to the Rigi, a famous lookout point.
The mountain town of Grindelwald is the largest ski resort town in the Jungfrau region. This lovely alpine town is both a summer and winter activity region. Tourists who visit in the summer can enjoy spectacular hiking trails and some of Europe's most loved rock climbing locations. Winter tourists can ski or even try the local toboggan run. A number of locally accessible mountain peaks and passes makes this a beautiful choice for photographers and nature lovers alike. Festival lovers will love the ice sculptures at the world snow festival.
Expat-savvy is at your service to be your most reliable insurance broker through Switzerland. Whether you are not sure if you have your best healthcare insurance rate, looking for an affordable household insurance, or you have difficulty deciding on the best expats insurance policy for you and your loved ones – you'll have an answer at the palm of our hand at all times. We make sure you get the best rates and promotions that you pay exactly the rate for the coverage you need.Have you just arrived in Switzerland and cannot decide which insurance policy best matches your needs? Expat-savvy is at your disposal to answer any questions you may have and provide health insurance advice that will help you decide on the policy that suits your specific requirements. Expat-savvy offers free health insurance advice to all expats. We understand that you are going through a big change which might be financially and otherwise stressful for your entire family. We are ready to provide guidance on any topic that might interest an expat, completely free of charge. Read extra details on expats in Switzerland information
Otherwise known as the Roof of Europe, here you can admire the Alps in all their splendour. You can journey to Europe's highest-altitude railway station at 3454m above sea level. The Matterhorn is known as the world's most photographed mountain in the world for a reason. Head to the fully pedestrianized resort of Zermatt if you want to tackle the challenge of climbing the mountain or ski on top-class slopes in its shadow.