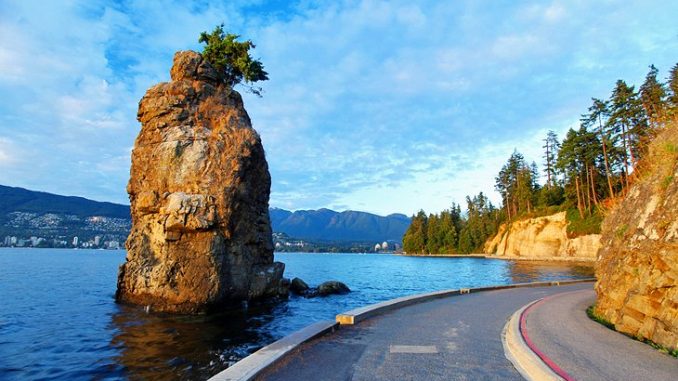 Best Vancouver locations : In both winter and summer, Grouse Mountain offers an unmatched panorama in clear weather. That's especially so in the evenings when the city lights are on. A gondola operates daily running from street level to the summit, where dining, activities, and wildlife await mountaintop explorers year-round. Especially for families, Grouse Mountain is a winter wonderland offering outdoor skating, snowshoeing, skiing and snowboarding. In summer, Grouse Mountain is a hiker's paradise with trails, including the famed Grouse Grind – affectionately called Mother Nature's Stairmaster.
Gastown is Vancouver's most historic neighbourhood, and it's located just next door to the downtown area. Highlights in the area – besides the food and drinks – include the steam clock (one of only a few left in the world), Hotel Europe's Flatiron Building-like exterior and Gassy Jack's statue. For shopping lovers, a visit to Vancouver isn't complete without checking out the stores in British Columbia's largest mall. Metropolis at Metrotown in Burnaby (in the Greater Vancouver area) is also the third largest mall in Canada, with over 400 stores across four floors. It has shops for everyone on every budget: from Forever21 and Old Navy to Michael Kors and Guess. For transportation please visit : Cheap Limo Vancouver Airport
Capilano Suspension Bridge
What is it: Walk across Capilano Suspension Bridge or Lynn Valley Suspension Bridge for wiggly views of the temperate rainforest on Vancouver's North Shore.
Why go: In addition to the bridge, Capilano is also home to a Cliffwalk and a Treetops Adventure to explore, as well as information about the area's indigenous peoples. Lynn Valley is less commercial, less crowded and free.
A walk through the forest takes on an entirely new meaning when it comes to the forest at Capilano Suspension Bridge Park. Visitors walk among the upper reaches of an old-growth rain forest on a suspension bridge that is 140 meters (460 feet) long and peaks at 70 meters (230 feet high) as it crosses the Capilano River. The park also offers Cliffwalk, a walkway that clings to the side of a granite cliff, and Treetops Adventure where seven suspension bridges are as high as 30 meters (100 feet) above the forest floor, with platforms where visitors get a squirrel's eye view of the forest. Less adventuresome visitors will enjoy strolling a ground trail and seeing Totem Park and Northwest natives making traditional crafts.
Brought to you by : Airport Limo Service Vancouver BC. We are one of the most trusted Limo Company for weddings, Grads, bachelor party, prom night, wine tasting tours or any long distance drive. We do not only meet but exceed your expectations. We follow "no hidden fee" policy, to help you, plan your cost for the trip ahead of time. We also send you a written agreement in an email with price detail and terms, so you know what exactly this going to cost you. We have been in the business for over 15 years. It doesn't matter if you are hiring us for your wedding, bachelor party, or wine tour. We promise you: Exceptional Service, Affordable Rates, Friendly and experienced chauffeur. Our limos have all the wells and whistles like neon lighting, bar and j seating. We provide the stylish, comfy, and safe ride from point A to point B.