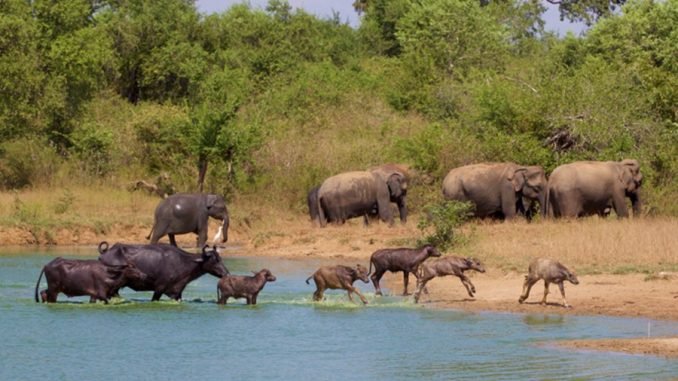 Live a Sri Lanka safari with Go4Safari team! Sri Lanka is an amazing country with many beautiful travel locations. If your love is more towards the big jumbos it is surprisingly easy to do an elephant safari in Sri Lanka With go for Safari. They not only do regular safaris in Sri Lanka but special Elephant safaris at udawalawe. National Park. Udawalawe is a good place to do elephant safari, one of the best things in Udawalawe elephant safaris are you have two different time slots to select from which are, morning safaris slot and afternoon Safari slot, both time slots are not only equally good yet unique, all you have to do a select a convenient time for you.
Mirissa is the ultimate Sri Lankan beach getaway. The beautiful long beach is flanked by tall overhanging palm trees and lined with modern restaurants and hotels. The restaurants have western style food at Sri Lankan prices. Just off the beach is Parrot Rock. It has a small staircase leading to the top that offers great views of the ocean and coastline. Day trips from Mirissa include whale watching, snorkeling and surfing. Weligama, just a few kilometers from Mirissa, is one of the best beaches in Sri Lanka to learn surfing. Come happy hour and into the evening, many the restaurants turn their venues into beach clubs and pump out drinks and tunes. Arugam Bay is revered by surfers. This small town on the east coast of Sri Lanka embodies the quintessential laid-back surf lifestyle. The Main Point surf break is within walking distance from the town center, but is only recommended for advanced or intermediate surfers. Otherwise, Whiskey Point or Peanut Farm are two great surf beaches for beginner and intermediate surfers; a short tuk-tuk ride will take you there. Often elephants and peacocks can be spotted beside the road, just outside of town. The main strip in Arugam Bay town is lined with restaurants and hotels where you can dine on anything from traditional Sri Lankan curry to full English breakfasts.
Hiking in Riverston Sri Lanka was an unexpected highlight of my journey throughout the island. Riverston is a region best defined by the popular term, 'off the beaten path'. We drove for several hours, parked in the middle of nowhere and then embarked on a hike. We headed across the river and through the rice fields and farmland. There is minimal signage but luckily we had our guide Lukobanda to guide us up. The hike doesn't have a specific name according to the locals other than the Riverston Hike. The hike looks out over the Knuckles mountain range and the surrounding highlands. It's one of the short day trip hikes in the area. The end of the hike ends with a sharp 300m drop, which made for some pretty epic photos. From here you can chill and take in the views of the Thelgamuwa Valley, the terraced rice fields, and the Knuckles mountain range. This spot is called 'The Worlds End'.The hike is 5km long but not incredibly difficult. See more info on Sri Lanka Safari.
The Kandy to Ella train journey is said to be one of the most scenic, epic train journeys in not only just Sri Lanka but the world. So with a few days to spare in Sri Lanka, I decided to purchase a ticket for $1.50 and climb aboard for the 5-hour journey. Yes, the train really does cost just $1.50. I have now taken the train in both directions. From Kandy to Ella and in reverse from Ella to Kandy. On both occasions, I just arrived at the train station and bought the cheapest ticket and walked on. I didn't sit in a seat, I preferred to an open door and hang my legs over the edge for the entire journey.
One of Sri Lanka's seven World Heritage Sites, this rock-top fortress dates back to the 5th century AD. The atmosphere is more spiritual than militant: in its time it has acted as a royal palace and Buddhist monastery. The site is also regarded as one of the most important urban planning projects of the first millennium, and is home to some of the oldest landscaped gardens in the world. Look out too for the mirror wall, a masonry wall that was so well-polished that the king could see his reflection in it.
The Yala national park is most famous because, it is more likely to spot animals due to it's savanna like terrain with occasional forest areas mostly consist with small trees and shrubs. It is home to Mammals, Reptile, Amphibian, Invertebrate and Birds. Because of Yala National park's animal diversity and density are extremely high, relative to other national parks it will render Yala Safari park is the one-stop place to watch all the animals, with minimal effort and time, so you won't go home with empty handed. you can check out what animals can be seen at the Yala safari park, below this page. Another factor Yala Safari park makes most famous because of Sri Lankan leopards (Panthera Pardus). The leopard is the only cat from five "big cats" that Sri Lanka harbor, since there are no other predators to challenge the leopard it's population escalated to the worlds highest density of leopards. With no other animals, especially big cats to compete with, they're sized become enormous, weighing in at almost 100kg the biggest of its kind and biggest leopards in the world. Elsewhere in the world they are called as elusive cat, but not here they have little to no-fear, they can be seen proudly sauntering along all over the park, playing and hunting.
Source: https://www.go4safari.com/