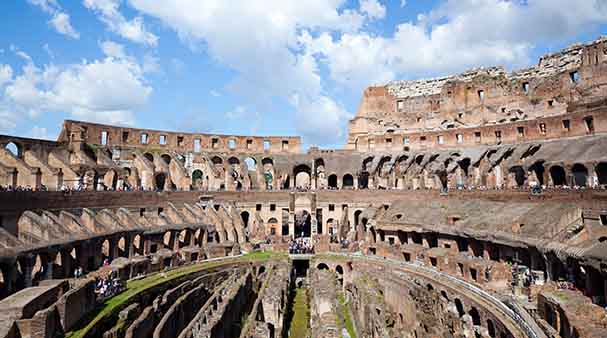 Basilica of San Clemente – Located just a few blocks from the Coliseum, the 12th century Basilica of San Clemente is built on top of a 4th century Church and older Roman temple. The present church is noted for its fabulous frescoes and mosaics. For an admission fee, it is possible to explore the excavations of the lower two levels, which is a fascinating journey into the history of Rome.
Take a look at a Rome tourist map, and you'll see one area so filled with things to do that it's hard to read the street names. This is the Centro Storico, the historic center of Rome, with so many art-filled churches, resplendent palaces, and lively squares that you could spend your whole vacation strolling its ancient streets and lanes. Spend some time just to absorb the neighborhood's atmosphere instead of going from one of its must-see sights to the next. Along with Piazza Navona, the Trevi Fountain, and the Basilica of Santa Maria Maggiore, stop in less well-known churches, such as Santa Maria del Popolo, where you'll find works by Bernini and Caravaggio.
Villa Farnesina – Visitors who want a peek at how the wealthy lived during the Renaissance may want to visit Villa Farnesina, a villa located in the Trastevere district. The Villa Farnesina is well known for the frescoes depicting the myths of Cupid and Psyche that were painted by Raphael. Works by various other artists were commissioned by a banker who was also a papal treasurer, and who had the villa built in 1506. More details about Rome Tours…
Castel Sant'Angelo
Erected on the banks of the Tiber River, this cylindrical fortress was built by Roman emperor Hadrian as a mausoleum for himself and his family in the 2nd century AD. Due to its proximity to the Vatican, the tomb was subsequently used by the popes as a fortress and castle. It also includes a secret corridor that connects it to Vatican City and two popes used it as an escape route in the 15th and 16th centuries. Today the structure is a museum that offers a great view onto St. Peter's Basilica in the distance.
Free things to do in Rome : Partake of the Pantheon
Originally a pagan temple converted into a church in 608AD, the Pantheon is one of the important sites to visit in Rome. You'll find it in Piazza della Rotonda, a favorite hang-out for young folks in the evening. It's the best-preserved monument of imperial Rome, entirely rebuilt by the emperor Hadrian around AD 120 on the site of an earlier pantheon erected in 27 BC by Augustus's general Agrippa. The building is open Monday through Saturday 8:30 a.m.- 7:30 p.m. and Sunday 9 a.m.- 6 p.m.